Safety shoes protect the upper foot bones from compression and shock.
The head of safety shoes is usually made of steel or metal and is heavy and hard. which will help support the compression force or impact force very well Helps protect toes including the upper foot bones To be safe from accidents If there is an object that falls and hits Or it can be rolled over by heavy parts.
Safety shoes protect your feet from electrical currents.
The soles of most safety shoes are made from electrically insulating materials. Especially with safety shoes designed specifically for electrical work. The shoes will be made from rubber or genuine leather. non-conductive Helps protect the wearer from electric shock. or electric shock well
Safety shoes protect your feet from sharp objects.
Safety shoe insole In addition to being an electrical insulator Still thick enough to provide good protection against punctures. In some models and brands The soles are also reinforced with steel plates. Increase thickness and hardness Helps protect against sharp objects such as nails or broken glass, even better
Safety shoes help prevent slips and falls.
In factories or work areas that are constantly wet Safety shoes with thick soles and deep treads are able to grip surfaces better than ordinary shoes. Helps prevent you from slipping or slipping and causing a serious accident.
What kind of safety shoes should you wear to be truly safe?
We have already seen that Safety shoes can help protect your feet from many unexpected accidents. But even so Wearing safety shoes It's not just about wearing any pair of safety shoes. But you must choose to wear it appropriately. Safety shoes can really help protect our feet.
Wear safety shoes that are appropriate for the job.
There are many different types of safety shoes. Each type is designed to suit different types of work, such as safety shoes for electrical work. Safety shoes for construction sites or safety shoes for wearing in factories Before buying safety shoes to wear So you need to know first what type of machinery your work involves, whether it has electricity or sharp parts. Then choose the right safety shoes. Just like this, safety shoes will effectively protect your feet.
Wear safety shoes that are appropriate for your foot size.
Each person's foot size is not the same. Safety shoes are therefore not equipment that should be used together. Because if you wear safety shoes that are too loose It may fall off while working. But if the shoes are small or too tight It will be bad for your health, causing pain, discomfort, and inconvenience at work. Safety shoes Therefore, you must choose the one that is appropriate for your foot size. and the anatomy of the feet Before buying, you should try the size to make sure it fits. Choose a pair that is the most comfortable to wear. This will help you wear safety shoes for a long time without injury. Work more comfortably It also helps protect the feet from danger very well.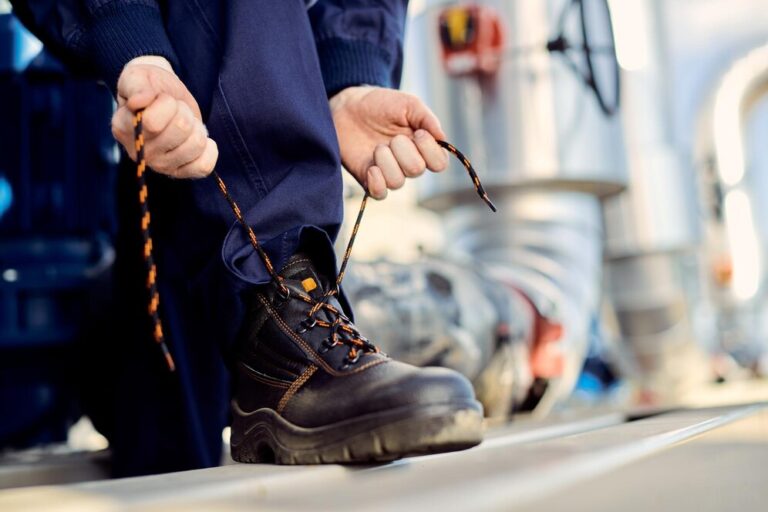 Wear standard safety shoes.
Safety shoes need to be selected with standards. Because they are not shoes that you wear for walking in everyday life. But the main purpose is to wear it for safety. Safety shoes therefore need to have a production process that meets international standards. When looking for safety shoes, you should buy them from the store. Or it's best to contact and buy directly from a brand that has certified production standards.
Where can I buy good quality, standard safety shoes?
As said, safety shoes You must choose carefully and have standards. Don't take anything for granted. Because it definitely won't be worth it. If you wear it, there will be an accident. Or you get safety shoes that can't protect you from any danger at all. Therefore, it is better if you choose a store that you can trust. Like our own office mate Distributing safety shoes from various brands that meet standards. There are many sizes to choose from. Let's take a look at safety shoes from 3 famous brands that we would like to recommend.
Popular safety shoes recommended by GLOVETEX